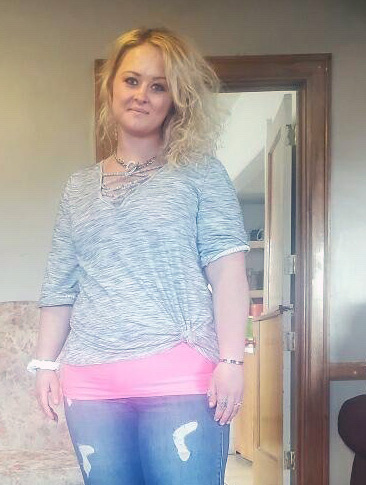 Sarah Zepeda: A Wife and A Mother is Transformed
The same day I was planning to take my own life, my phone rang. On the other end was a woman from the Rescue Mission of Salt Lake. She said they had an opening for me if I wanted help with my addiction.
Astounded, since I had never heard of the Rescue Mission before or even knew where it was, I told the lady that I would come down and talk to her. Since that time, God has completely changed my life.
It was a month or two after that call that I found myself sitting in a counselor's office at the Rescue Mission Women Center. As always, I was rocking back and forth in my chair, filled with worry and anxiety. The counselor asked me if I had ever put my faith and trust in Jesus and I said I hadn't, but I knew that I needed God's help. That day, I told God that I believed in Jesus and wanted His help to live sober.
God began to change me that day. Now, I no longer rock back and forth when I am talking to other people but instead feel calm and relaxed. I no longer use drugs to avoid negative memories or feelings. Instead, I feel forgiven and know that God helps me to deal with my traumatic past.
If you see me now, it would be hard to imagine me as a homeless person. But for an entire year before I came to the Rescue Mission I was living on the streets. I lost my job due to drug abuse and moved from Idaho to Utah after my relationship with my husband grew so toxic that we needed to separate.
My seven-year-old daughter from another relationship was with me while I was homeless on Salt Lake City's streets. We bounced from shelter to shelter even as I was using meth or heroin each day. Eventually, my life grew so bad, I knew I had to protect my daughter, so I took her to live with her father.  I was so addicted I could no longer take care of her.
I would stay awake for 10-days in a row using meth. I walked around the streets of Salt Lake in a sleep-deprived and drug-induced psychosis, talking to myself or talking to things that weren't there. I hallucinated and was the serotypical, delusional streetwalker that people just want to avoid.
As I devolved, I decided I would take my own life. What did I have to live for, I asked myself? My mother had taken her life in 2016 and I was the one who first found her body. That experience, along with a lot of childhood trauma and abuse, seemed overwhelming. I really didn't believe I could endure all the pain I had experienced without using drugs. It was a hopeless situation. But the night before I was going to kill myself, I cried out to God, wondering if there was any way He could save me.
The call I received the next morning from Teresa at the Rescue Mission seemed like an answer to my cry for help. The staff at the Rescue Mission told me I had called the Mission the day before asking for help. But I do not recall making that call and really had not even heard of the Rescue Mission before that day. I truly believe either someone else made that call on my behalf or somehow God did a miracle.
When I first joined the New Life Program, I felt brain dead from all the meth and heroin I had done. I had to get help just to write things down on paper. Like I said, I would rock back and forth in my chair, barely being able to communicate.
Now, after nine months on the New Life Program, I have completed the counseling and educational portions and have a good job with a property management company. I help people apply to live at our properties and show open apartments and homes to would-be renters. It's a great company and I feel fulfilled in helping people get into housing. Sometimes I feel it's kind of funny, a formerly homeless person is helping people obtain their own homes!
A couple of things that have really helped me are: a great church family at Capital Church and my community mentor who the Rescue Mission assigned to me. There is also a group of women from K2 The Church who help disciple and mentor me. This community of sisters is a huge part of my sobriety. Having them to rely on for spiritual guidance has been incredible.
The best part is that I believe I have a real relationship with God now through Jesus, who helps me to stay sober and on track. With my new job, I am saving up money so I can get an apartment for my daughter and me. My daughter was no longer able to stay with her dad so she is currently living with her uncle until I complete the New Life Program and can have her move in with me again. Please pray that I will be able to provide some stability for her life.
I know I have a long way to go, but I still have dreams and goals I am working towards. One goal is that I want to try to use my story to help point people to faith in Jesus. Another goal is to be reunited with my daughter and husband so we can work on building a family life together. My husband and I have made a lot of progress towards solving the issues that were sabotaging our marriage. I look forward to a lot of healing taking place between my daughter, my husband, and me in the future.
Please pray for me as you remember. I feel so blessed that I received that call and came to the Rescue Mission. I am grateful to God and to all the supporters of the Rescue Mission. This was the one place I needed and the one place where God saved my life. Thank you for being a part of my life change!
Check Out Other Articles From Our Newsletter
Deshaun Mitchell: A Place That Helped Me Get Back Home
Staying Focused On Our Key Ministries– A Message From Our Director
Thanksgiving With A Twist
Subscribe to Our E-Newsletter
Help someone off the streets and transform a life by donating today!
Your Support Can Change Someone's Life.