Terresa Wood: A Grandmother Gets Off The Streets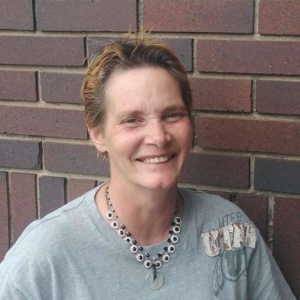 Before I came to the Rescue Mission Women's Center, I don't remember knowing it existed. I don't recall looking for it, nor do I remember dialing the phone number, but I do recall asking them for help. I had been living on the streets of Salt Lake City for the past year and was at rock bottom. I had been robbed at knife point, slept behind dumpsters, used sidewalk curbs as pillows, and done things I thought I would never do to ensure I was safe.
But, at my absolute lowest point, I remember being on the phone with someone at the Rescue Mission. I remember pleading for help, and I remember a kind voice on the other end of the line saying they would help me. When I arrived, they told me they wouldn't force me to change the lifestyle I was living but that they would teach me God's truth from the Bible. And as I learned God's truth from the Bible, He did change me.
God took away the shame and guilt I was feeling. My previous view of God was that He demanded obedience and perfection. In fact, two years earlier I had joined a church where I was taught that God expected perfection from people. But by studying the Bible at the Rescue Mission, I found a different God.
I saw a God who had abundant love and forgiveness. The one true God is a God who could and would forgive me, not only for my past, but for my future mistakes as well. These realizations took away the guilt and shame of my many past sins (and the sins I knew I would inevitably commit in the future). I realized that if I found my worth in Jesus and what He did for me, I would experience joy, instead of pain and shame; and I did!
With a new belief and identity in Jesus, I felt less violent. It is difficult to admit, but I have been a very violent person. I have numerous assault charges and have often resorted to violence when I was angry or scared. I knew no other way to douse my anger or protect myself. Since fully turning my life to Jesus I have only had one violent episode, when I threatened another member of the New Life Program here at the Rescue Mission.
That threat was the turning point in my recovery. As a consequence of my threat, I had to leave the Rescue Mission for 48 hours and decide if I really wanted recovery and a new life. I was sobbing as I packed my bag for 48 hours away from the Mission. I felt mistreated and picked on. But then God changed my heart. I realized I wasn't picked on, I was the problem. While I was forgiven for my threat, I still needed to accept the consequences for my actions. When I returned to the New Life Program I felt changed and have not had another violent incident since.
When I was on the streets, violence was all around me. One time I was robbed at knife point. The thing that stuck with me about being robbed was not the fear, it was the fact that I wasn't scared. I had grown so accustomed to the violence and abuse of street life that having a knife pulled on me didn't faze me.
Living on the streets for a year had made the crazy and unimaginable seem normal. Sleeping behind dumpsters had become acceptable. That's a scary place to be, where things that would've shocked you previously become commonplace. You find yourself willing to do almost anything for basic safety and human needs. No person should experience street life, but many, in the deep fog of addiction, accept it.
I hadn't always been homeless. For much of my young adult life I was sober. I had five children, went to college, and had some normalcy, even as I sometimes struggled with substance abuse and abusive relationships. But the shame and guilt I felt over my past mistakes led to increased drug abuse. My addiction grew out of hand and I ended up on the streets, estranged from my family and friends.
I thank God that He led me to the Rescue Mission, where I was excepted and learned how much God loved me and wanted to create me into the woman, He wants me to be.
Today, I am trying to rebuild my relationships with my five children and 13 grandchildren. Because of my struggles, I have only met three grandkids, but I want to be a loving, sober grandmother to all those babies.
God has provided me with a good job at a uniform shop where I clean and repair uniforms for various companies. It's not necessarily a job I want to keep for the rest of my life (my goal is to eventually have a job where I can help others off the streets) but, for now, it allows me to provide for myself as I get used to working again.
In a couple of months, I will graduate from the New Life Program. I am hoping to move into the Mission's Hope House, which is a transitional housing unit for women who are getting off the streets. At Hope House I will have the structure I need as I make the jump back into "normal" life. In my preparations to leave the Mission I am doing the things I know I need to do to stay sober. I go to recovery meetings, attend church on Sunday, go to Bible studies, and talk with my accountability partners, including my community mentor, Bette Jean.
My great church family at Capital Church has made a huge difference in my life. A few weeks ago I was baptized into God's true family of believers. No, I am not perfect, but I realize I am forgiven because Jesus was perfect and sacrificed Himself for me.
I want to share a special thank you to the Rescue Mission's supporters. I am amazed that this place receives no government funding. When I was at my lowest point, the Mission gave me food, safe shelter, clean clothes, and loved me through addiction counseling. This was all provided to me at no cost, because of the generosity of the Mission's private donors, like you.
I thank you and praise God for you and His provision. It has been amazing to experience a complete life-change and I feel gratitude to all of you who helped make it happen.
Help someone off the streets and transform a life by donating today!
Your Support Can Change Someone's Life.