Did you know that about 50 percent of our homeless friends who seek shelter at the Rescue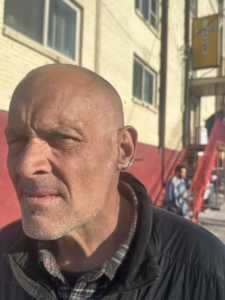 Mission are working? In the last 3 months we have placed 9 people into full-time employment!
Wayne is one of our homeless friends who is employed, working his way out of homelessness. Wayne's job requires him to work outside. During this past winter storm, Wayne endured working outside, but experienced frostbite on his ear in the process.
Wayne is a member of our Transition Program. The Transitions Program is designed for those who are experiencing homelessness who are not in need of the New Life Recovery Program. Transitions help our friends obtain stability in their lives, return to work, and leave the streets. During this program, they receive case management, secure employment, housing, self-sufficiency, and a positive support system.
Being so late in the season we were out of winter hats and Wayne did not have one. To keep his job, Wayne worked outside anyway resulting in the frostbite.
Every donation, no matter how small, to the Rescue Mission is vital. Your gifts of warm clothing, shoes, hats, gloves, etc. makes a difference in people's lives and when we run out it matters.
Thanks to the generous donors at the Rescue Mission, Wayne has been able to receive the proper attire he needs to survive the freezing temperatures such as a warm winter hat that will keep his ears warm and safe from further damage.
What you do matters, and we are so grateful for you!
Check Out More Success Stories
Kayra Darling: A Women Finds a New Life Off the Streets
Steve Mitchell: A Homeless Father Finds Sobriety and Employment