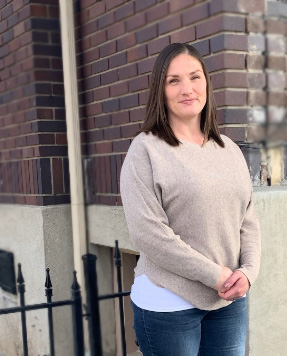 Stephanie Herrera: A Wife and Mother Finds a New Life
It was just when the COVID-19 pandemic became a real thing in the U.S.—March, 2020.
I was all by myself in a cheap motel, not knowing what to do. My husband and I had been using meth and heroin on a regular basis for about three years. In 2017 we lost, in close succession, both my parents and his father. It was at that point that we turned from using drugs recreationally, to using them just get through our daily grief.
We were struggling to hold down our jobs and keep the place where we were living. And just as our money and job situations grew tenuous due to our drug use, we were both arrested for shoplifting and arguing with a security guard at a local grocery store.
The judge released me pending a court date, but my husband's judge wasn't as lenient, and he remained incarcerated. Even though I was released from jail, I had lost my job and our housing.
Our children, who are all young adults, had left Utah to live with other family members in Idaho and Nevada since they had had enough of our drug use. I was all alone. The only thing I had that was worth anything was a ring, so I pawned it. I used the money for drugs and a few nights stay at a cheap motel. On the fourth night at the hotel, I called my husband in jail. I told him I had nowhere to go. I had called around to some "help lines" looking for places that might give me a place to stay, but hadn't found anything.
For the first time that I could remember, my husband told me that I needed to pray and ask God for help. My husband usually doesn't talk like that and it impressed on me that the only option I really had was to plead with God.
So, I sat alone in that hotel room and asked God to do a miracle. The next morning, I got a call from a woman at the Rescue Mission's Women's Facility. She had gotten my contact information from one of those help lines and she listened to my story. She told me that if I wanted help and a pathway out of addiction and into new life, I could join their New Life Program.
I felt the invitation was an answer to my prayer. I jumped at the opportunity and am glad to say that decision has changed my life. At the Rescue Mission I learned that God had forgiveness for me when I trusted in Jesus. I learned how Jesus had given his life for the wrong things I have done.
Before coming to the Mission, I wore my past shames around my neck like an anchor. Back then, I was afraid to have a relationship with my son and stepdaughters because I had neglected and mistreated them so many times before. I didn't trust myself to be a good mother or a good friend to anyone and it made me isolate and turn to drugs all the more. But when I experienced God's forgiveness, it allowed me to forgive myself and removed the anchor from my neck. I felt free to have relationships with people again.
I have been sober for almost a year now and a couple months ago was able to begin the employment phase of the New Life Program. Despite the job market, God blessed me with a job at a medical supply company and I am now starting to save money for housing.
Another blessing is that my husband, who has since been released from jail, has joined the men's program at the Rescue Mission. It's amazing to see his transformation. He is a guy who was in a gang at age 13 and is tattooed from head to toe. But now he talks differently, he acts differently, and he feels different. I can't believe the great relationship we have together as a sober couple who both know Jesus.
We are going to church together at New Creation Church in Sandy. It is a great church body and we are welcomed and at home there. We have new desires and hope our lives can reach other people for Jesus and help them to have faith in Him.
Our children are happy with us too. We have three children who we call our own, but none together. My husband's two children are from another relationship and my son is from another relationship, but we feel like we are one family. Before, when I was still using, I would try to tell my children how I would change or how things would be different someday. Now, I don't need to tell them anything.
Instead, they can see the change that has happened. I don't need to convince them. My son has told me two times in recent weeks that he is proud of me. Those are the first two times he has ever told me that he is proud of me.
My husband has recently moved to the job phase of the New Life Program on the men's side. Please pray that he will find work. He is a good worker and has had successful jobs in the asphalt business in the past, so I think God will provide for him.
As I look to the future it seems brighter than ever. One of my goals is to get my driver's license and then purchase a car. My husband and I would like to go visit our children and will need a car for those visits. We are also looking to rebuild our credit and get into a house again. The judge on my case has said that if I continue to do well, she will drop my charge from a felony to a misdemeanor, which should allow me to qualify for even better jobs than the one I have now.
I love customer service, solving people's problems and taking care of them. So, I would love to get back into that kind of work, but it is hard for people to take a chance on someone with a felony in their background, so please pray for me about this. I can't thank you—the supporters of the Rescue Mission—enough. Without your support and God's enabling, this Mission would not be here, and I would never have found the help I needed.
Thank you for providing a place where desperate people like me can find a changed life. Your support has meant the world to me.
Check Out Other Articles From Our Newsletter
Lester Herrera: A Former Gang Member Finds Life in Jesus
Loving Your Neighbor – A Message From Our Director
Subscribe to Our E-Newsletter
Help someone off the streets and transform a life by donating today!
Your Support Can Change Someone's Life.