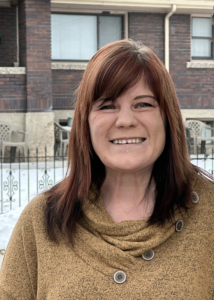 Venus Maddox: Finding Joy in God, Sobriety, and Work

It's been a long, hard road, but the heart change I needed happened when God lead me to the Rescue Mission of Salt Lake last winter.
I remember the day, January 14, 2022 when I prayed to God here at the Rescue Mission's Women's Center and asked him to change my life through a true relationship with His son Jesus. Since I made that request of God, He has delivered in major ways and restored my life. I was even baptized at my church on New Year's Eve 2022.
At times in my life I have struggled with suicidal thoughts and self-harm. I was adopted at age eight after my mother struggled with mental health issues. My adopted mother told me things about my childhood and birth mother that I later came to find out were not true. I don't know why my adoptive mother told me these things, but they caused me to believe that abuses had happened to me during my childhood that actually never happened.
When I became pregnant at age 20, I was scared. I thought I could be abusive towards my son, since I believed I had once been abused myself. This fear overcame me and caused me to believe I wasn't a fit mother.
I told Child Protective Services they should take my baby away from me. In reality, I would have never harmed him, but I felt trapped and confused. I believed that I was not worthy to be a mother. That I didn't deserve a son.
My adoptive mom took custody of my son, and my life took a turn for the worse. Losing my son forced me into a deep depression and I lost contact with my family and fell into addiction, crime, and homelessness. I was in and out of jail and had no real direction in life other than finding ways to get money for meth.
One day, about four years ago I was searching the internet for my family, trying to see if I might be able to reach them. On the third page of the Google list was an obituary for my son. My adoptive mother apparently had a seizure while driving with him in the car and slammed into the back of a truck.
I was devastated and at that moment, I lost all hope. I started injecting meth and even attempted suicide by running my car into a tree. I started having sex for money and was constantly being arrested for drug possession, assaults, and other crimes. When I wasn't in jail I was living on the streets or whatever place I could find.
Yet, in the back of my mind, I always thought about the Rescue Mission. I knew what I really needed was God in my life. So one day when I went before a judge following yet another arrest. I asked the judge to let me out of jail, if I would commit to go to the Rescue Mission's Women's Center and join their New Life Recovery Program.
I was surprised that the judge agreed.
Since that day God has transformed me. I have been sober for almost 15 months. Learning through the Bible studies here at the Mission has not only given me faith but given me true hope that my young son is also in a better place, with God. I relate to King David, who, when he lost his young son, believed he might see him again in Heaven and said, "I shall go to him." (2 Samuel 12:16-23).
One neat thing is that I get to volunteer in the nursery at my home church. It is a blessing to be able to help with the ministry of taking care of the 0-23 month-year-olds, to not only bless those young kids, but also bless the parents by giving them the ability to have a parenting break so they can worship God.
When I entered into the employment phase of the New Life Program, I was able to get a job as an exam room technician at one of the most recognized veterinary clinics in the Salt Lake Valley. I love my job. I am able to calm pets down as they await their exams or other procedures. It's relaxing to cuddle everything from rats to huge dogs.  I pray for the animal and the owners and love being a calming influence.
I am thankful my employer took a chance on me, despite my background. My probation officer says I am doing so well, my probation end date has moved up to July, 2023 (I was originally scheduled to be on probation for three years). As I work, I am saving up money to pay off all my fines and fees I owe by July so I can be completely off probation.
I am also saving money so that when I graduate from the New Life Program, I can move into Hope House, which is the Rescue Mission's transitional housing unit for women. I feel like I need the continued structure and support of Hope House to continue to develop stability after graduating from the recovery program.
Another cool thing is that I have been able to restore my relationships with my birth mother and my brother. My mother lives in Mississippi now so I talk with her over the phone often and my brother, who once would have nothing to do with me, even came to visit me here at the Women's Center.
I am so grateful to God, His son Jesus, and the Rescue Mission for providing a place where I could experience a changed life. My utmost thanks also goes out to you, the faithful supporters of the Rescue Mission, as well. I know without your support this Mission would not be here and I would probably be dead. I have tried to take my own life twice, but now I enjoy living and look forward to the future. This change is all due to your support and God's enabling power. Thank you so much!
Check Out Other Articles From Our Newsletter
Steve Mitchell: A Homeless Father Finds Sobriety and Employment
While Public Funding Can Help, It Is No Replacement For The Gospel – A Message From Our Director
Rise, Renew, and Rejoice this Easter
Subscribe to Our E-Newsletter
Help someone off the streets and transform a life by donating today!
Your Support Can Change Someone's Life.