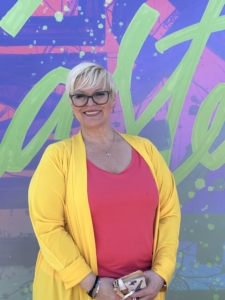 Kayra Darling: A Woman Finds a New Life Off the Streets

A little over a year ago, I was destitute, addicted, and four miles from the Tijuana, Mexico border without hope. Providentially, God provided a way for me to return to Utah (where I grew up) and find a new life at the Rescue Mission of Salt Lake's Women's Center.
I have felt the scars of many wounds throughout my life and was abused by various people. As I matured, I grew skeptical that the people I thought were my parents were actually my true biological parents.
I took a DNA test, and the results did not match the historical lineage my parents shared with me. I realized my family had no pictures of me prior to age four, and when I asked for my childhood medical records, they couldn't provide them. I asked my parents to take a DNA test to prove we were related but they refused.
As I grew more suspicious of a biological connection to my family, I grew emotionally apart from them. I started using diet pills at age 11 and later began using alcohol in excess. Eventually, I became estranged from my parents.
The one thing I seemed successful at was cutting hair and doing makeup. In a way, I was an artist in that regard and thrived in that kind of work. Even when I would come to the hair salon intoxicated, I was still able to make my clients look good. In my 30s, I met a music producer who was working in the movie industry. Given my prowess at hair and makeup and his skills as a producer, we moved to California and started working in movie and television production.
What I didn't know when I moved to California with him, was that he was a meth addict. Soon we were both abusing meth as we tried to stay afloat in our jobs. We lived like this for years, but couldn't keep it together and a little over a year ago, I found myself alone, homeless, and destitute near San Diego, just a few miles from the Mexican border.
Desperate, I found an organization that would pay for me to return to Utah, where I felt I had more roots and could get back on the right track. But when I arrived in Utah, nothing was different. I was still estranged from my family, addicted, and homeless. With nowhere else to turn, I sought help at the Rescue Mission's Women's Center.
The staff at the Rescue Mission told me they would help me, but only if I was serious about changing my life through the New Life Recovery Program. I agreed, and since that day, God has truly changed me.
Through the addiction recovery classes and one-on-one sessions, I received on the New Life Program I have found emotional and spiritual healing from several abusive relationships I had in the past. I have done my best, with God's help, to put the rift with my parents behind me. I have been able to let anger or regret go and trust that God will revel anything He wants me to know about my past that I don't already know.
Today I am sober and have a great job – doing the work I am best at, cutting hair. It's enjoyable to make people look good and see them feel happy when they leave our salon. When people sit down in my chair, I talk openly with them about my past struggles with homelessness, addiction and how God has helped me. People seem to appreciate my honestly and recently I was able to pray with one client who started crying when he told me about a friend of his who had overdosed and died.
I am also blessed to be able to do hair and makeup for the women who come to the Rescue Mission's Women's Center for help. While I'm cutting their hair, I share my story with them.  My story includes never having any children, despite being pregnant six times. I would have loved to have had children, but it was not God's plan for my life and He has helped me overcome that hurt as well and be able to talk about it with other women, who have suffered similar pains.
Besides,  the support I have at the Rescue Mission, my church body has truly encouraged me. I attend Capitol Church in Salt Lake and enjoy the worship, teaching, and fellowship I share with the people there. I would love to join the worship team one day, but my current work schedule does not allow for me to practice with the team during the week.
It's great to have a future and hopes and dreams again. It's refreshing to be able to pay bills on time, get my car registered, and save money for a home of my own. My current plan is when I graduate from the New Life Program I will move to Hope House, which is a transitional housing unit the Rescue Mission runs for women who are coming out of homelessness.
I will stay there for several months and grow further in employment and stabilization and then hopefully move out into an apartment or house with a few of the ladies I have met on the New Life Program. I am excited to see what God has planned for me in the future and want to thank you, all the supporters of the Rescue Mission. Without your support of this place, I don't know where I would have found the help I needed when I was homeless and hopeless. Your support helped save my life and brought me to faith in Jesus Christ! I am forever grateful.
Check Out Other Articles From Our Newsletter
Facing Tragedy – God's Love Story – A Message From Our Director
Help Us Gear Up Now For The Holidays
Daniel, Jaden, Kyle, and Ryan- Off the Streets and in a New Home
Stay up to date with what is happening at the Rescue Mission when you subscribe to our monthly newsletter.
Subscribe to Our E-Newsletter
Help someone off the streets and transform a life by donating today!
Your Support Can Change Someone's Life.