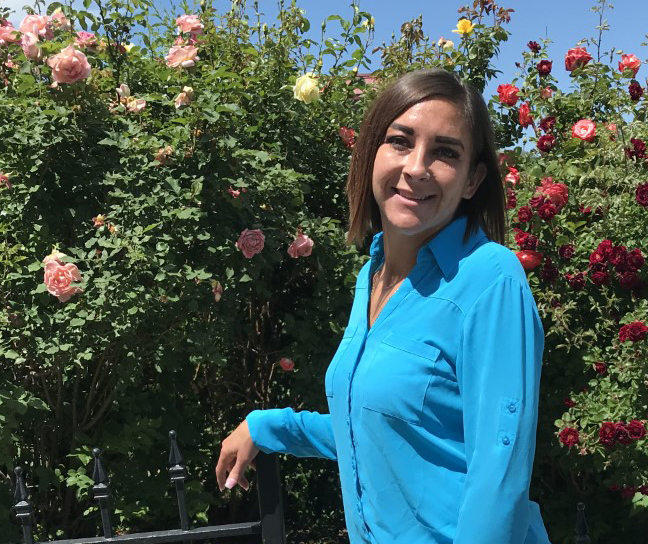 Melissa Mikkelson: A Mother Finds A New Life With Her Kids
Five years ago, my life seemed OK. I lived in Elko with my husband and our three children. We made a good living and seemed successful. But in 2017 addiction took a greater hold in our lives. We were soon divorced, and my husband took guardianship of our children, as I worked to get sober.
But without connection to family, my addiction grew worse and I was selling drugs and using sex to get drugs and money. I was mired in a terrible life in Nevada. I felt I needed to get back to my children, who had since gone to live with their grandpa and aunt in Lehi, Utah.
I traveled to Utah to see if I could reconnect with my family, but I was really in no shape for a homecoming. I was not taking the prescription medication I needed to manage my bi-polar disorder and was using illegal street drugs, such as meth.
I was homeless and when I had a severe depressive episode, I was hospitalized. As I recovered, the hospital staff asked me if I had a place to go when I was released. I really had nowhere but as I was lying there, a phone number came into my mind. It was a phone number I had called a few times before to seek help when I was homeless. It was the number to the Rescue Mission's Women's Center.
I asked the hospital staff to call the number and when the Rescue Mission answered I told them I needed help and a place to stay. They agreed to give me a chance on their New Life Program, and so I arrived at the Mission on May 14, 2020.
The biggest thing I had to accept in joining the program was that it was 13 months of my life. I thought, "what's going to happen to my children. What about the few belongings I still have. How will this impact my future relationships with everyone knowing I had been in a long-term recovery program?"
But God gave me the strength to commit. It was hard to tell my family about my decision. It embarrassed me because although they knew I had struggles, I don't think they realized how bad my life had become until I told them I was joining the Rescue Mission's program. Still, being honest about how broken I was was a huge first step for me.
As I worked through the New Life Recovery Program, I found that it was filled with counselors and staff and other program members who genuinely cared about being my friend. It seemed like they wanted to have a real relationship and even friendship with me, not just work through a series of counseling questions.
I found that real companionship can blossom and even grow during recovery. It was not 13-months of constant struggle, it was enjoyable at times, too. I say "at times" because certainly there were difficulties and frustrations. I was challenged to get to the bottom of my issues. To forgive those who hurt me in the past and, in turn, accept forgiveness for the wrong things I have done. And, most importantly, to truly accept Jesus and what He did by providing eternal forgiveness for us on the cross.
I love attending my home church of Calvary Baptist and learning more about Jesus. I need that connection to my church because I need people in my life who will encourage me to stay close to Jesus. As God has changed me over this past year, He has also been faithful to restore my relationships with my children and family.
My children view my word as trustworthy now. They believe the things I tell them and trust that I am able to follow though. They are thriving living with their aunt and step-grandfather in Lehi.
One way God has blessed us is that I never lost custody of my children. They are under a temporary guardianship now, but I will be able to have full custody again when I graduate the New Life Program.
I am currently saving money so I can get a small apartment where my kids and I can live together. When I moved to the employment phase of the New Life Program, God provided me with a good job at a Maverik Country Store just a few blocks from the Rescue Mission's Women's Center. After two months I was promoted to shift lead. Maverik is a good, stable company with great benefits, so I feel blessed to work there.
I am hoping to be able to transfer to a store in Lehi or somewhere in northern Utah County when I graduate because I would like to move there so my kids and I can be close to the rest of our family who have been so instrumental in raising them.
Even as I look forward to living with my kids again, I know I need to take everything slow and not forget to take steps each day to seek the fellowship with God and His people that I need to stay sober. My mental health is doing so much better and, with the correct prescription and sobriety, my bi-polar disorder is well controlled. I know God's healing has been a part of that as well.
Please pray for me as I make the transition out of the Rescue Mission's New Life Program and work to reunite with my children, who are 12, 9, and 4. I feel like as long as we are together and have God in our lives, that is all that matters. Thank you for supporting the Rescue Mission and giving me another chance to be a mom and a sober person again who knows Jesus.
Check Out Other Articles From Our Newsletter
Randal Billings: A Former Plumber Gets a Second Chance
Don't Get Overwhelmed! Small Changes Bring Hope– A Message From Our Director
We Still Need Miracle Makers
Subscribe to Our E-Newsletter
Help someone off the streets and transform a life by donating today!
Your Support Can Change Someone's Life.