You Can Help The Homeless Survive This Blistering Summer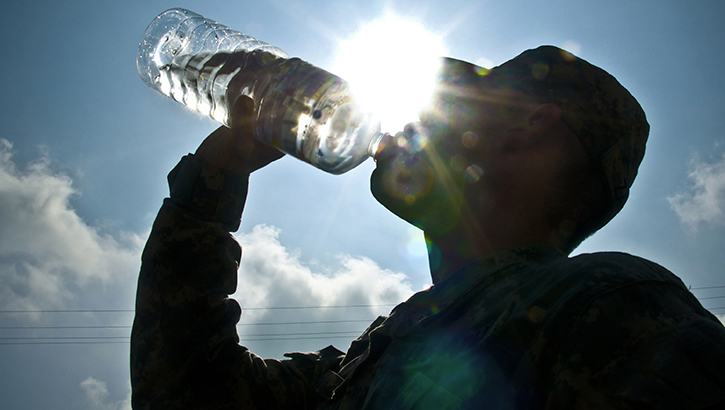 It's hot! And many of our homeless friends do not have access to enough clean water, if any at all. Without fluids, dehydration sets in and many of our homeless friends get sun poisoning, heat exhaustion, and heat stroke.
To help, we've launched Operation Hydration early this year. It is our mission to supply cool, clean water to the homeless. We are purchasing water bottles and have water coolers in our kitchen and foyer. Additionally, we're opening our chapel (chilled by our swamp coolers) as a respite from the summer swelter. Besides cool air and water, our homeless friends receive hats, sunscreen, reusable water bottles, and lip balm, cool showers, clean clothes along with kind words and love.
But we need you to keep this effort going this summer. Here's how you can help:
Volunteer – Every Wednesday we travel to area homeless camps. We share Care Kits with those living in camps and invite them to come to the Rescue Mission where they can enjoy Operation Hydration and find help to obtain the care they need as well as faith in Christ, sobriety, employment, and self-sustained housing.
Collect supplies – We need reusable water bottles, hats, sunscreen, lip balm, socks, and lightweight, long-sleeve shirts. Buy or collect these supplies and donate them to the Mission so we can put them in our Care Kits and supply them during Operation Hydration. Or better yet assemble the kits yourself and come join us to hand them out to our homeless friends.
Give – We have a $10,000 matching gift to help fund our hydration outreaches this summer. Please consider giving a generous donation that will help support our efforts and reach our match. Every donation you make will double and hopefully create $20,000 to help the homeless this summer. You can donate by using the enclosed envelope, give online at RescueSaltLake.org, or call 801-746-1006 to make a secure credit card donation over the phone.
Help our homeless friends this summer! Your support can help save a life from being lost to extreme heat and introduce a homeless person to Jesus!
Check Out Other Articles From Our Newsletter
Melissa Mikkelsen: A Mother Finds A New Life With Her Kids
The Need To Help The Homeless This Summer Is Real– A Message From Our Director
Jason Rayfield: Finding Grace, Forgiveness, and a New Life