Please Support Our Thanksgiving Banquet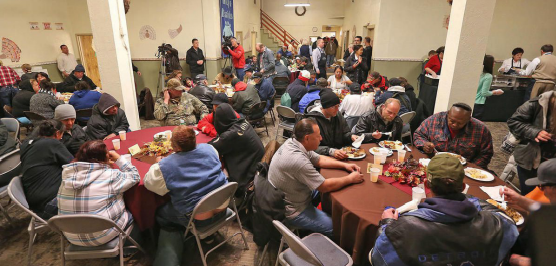 It's hard to believe but in two quick months, our homeless friends will pour into the Rescue Mission for our annual Thanksgiving Banquet. As the day approaches, we are already gathering the supplies and support we will need to serve over 1,000 of our "street-famous" turkey dinners.
It takes a lot of resources to pull off the event. Besides hot Thanksgiving dinners, there will live, God-honoring music, free warm clothing, showers and hygiene items, along with: haircuts, flu shots, referrals to our recovery program, and housing opportunities. Our staff members and volunteers will be showing love to our homeless friends and, where needed, they will provide crisis care to the weary and downtrodden. Most importantly we will be sharing how much God loves them, how much
we love them, and offer friendship and care.
Our goal is to create an experience so wonderful that our homeless friends will stay and join our New Life Program, which provides a pathway off the streets and into faith, employment, and permanent housing. When one of our Thanksgiving guests makes the decision to join our New Life Program then we can truly say that their restored hope began with a meal.
So please support our banquet by donating now at Donation Form (donorperfect.net). You can also call our finance office at 801.746.1006 for secure credit card donations over the phone. We are similarly in need of warm clothes, winter boots, and other items (visit Food, Clothing, and Essentials – Rescue Mission of Salt Lake (rescuesaltlake.org) for a more complete list). We do not want to turn anyone away this holiday season and want to make sure no one will go hungry. Please help today!
Check Out Other Articles From Our Newsletter
Justin Pearson: Finding Lasting Employment and Housing

More People Are Leaving Camps and Entering Shelters – A Message From Our Director
Sarah Eliza: Restored to be a Mother Again