A Shelter From the Storms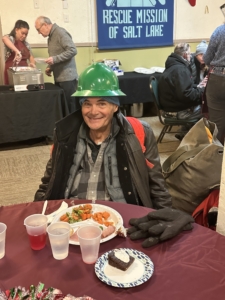 In December, sadly, five unsheltered people passed away on our streets as temperatures began to plummet. January is the coldest month of the year in Utah, with an average daily temperature across the state of just 25 degrees Fahrenheit, with even lower temperatures at night.
With your support the Rescue Mission is striving to help people stay warm and safe this winter. It is our desire to be a Shelter from the Storms – Winter storms that rage outside and the storms of life that rage within a person's heart and mind.  Our Seek and Rescue Teams go out into homeless camps to encourage people to return to the Rescue Mission to enjoy our warming center/day room, nightly shelter, meals, and vital care so people are not living on our streets and freezing to death outside. Our ultimate goal is to encourage people to join our New Life Recovery program so they can leave their life on the streets behind them.
The New Life Program heals people from the storms of life that keep people in the bondage of addiction, mental illness, and hopelessness. A new life instills hope for a future, which is off the streets and has achievable life goals.
Day or night the Rescue Mission is open and available for people who need a Shelter from the Storms. We provide hot meals, warm blankets, listening ears, and caring hearts to help save lives. Of course, saving lives has two meanings for us and we seek to accomplish both. We seek to save people from freezing to death on our streets, and we seek to save lives for eternity as people embrace the truth of Jesus and build a lasting relationship with Him.
Please support our Shelter from the Storms Campaign this January. As costs go up, people who have never been homeless before are calling us to set appointments to stay (knowing the date they will be evicted from their apartment). Our costs to provide meals, shelter, a warm place to stay day or night, showers, restrooms, and individual counseling are rising too. We estimate It costs around $15 to provide emergency services (meals, dayroom, and nightly shelter) for one person. Please help as many people as you can both in January and February!
Give securely online at RescueSaltLake.org, or call our donor relations line at 801.746.1006 for credit card giving by phone.
Check Out Other Articles From Our Newsletter
Robert Balding: God Unites a Husband and a Wife

Coming In From the Cold – A Message From Our Director
Thanks for Supporting our Holiday Outreaches – Volunteers still needed
Sarah Eliza: Restored to be a Mother Again