It's Getting Hot Out There: Support Us As We Leverage The Summer Heat To Help People Off The Streets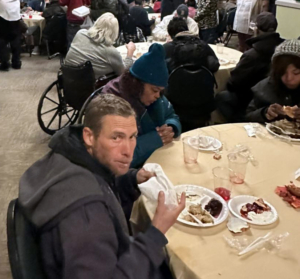 It's hard to believe but in two short months, our homeless friends will pour into the Rescue Mission for our annual Thanksgiving Banquet. As the day approaches, we are already gathering the supplies and support we will need to serve over 1,000 of our "street-famous" turkey dinners.
It takes a lot of resources and support to pull off the event. Besides hot Thanksgiving dinners, there will God-honoring music, free warm clothing, showers, and hygiene items, along with haircuts and vaccines for those who want them. Our staff members and volunteers will be showing love to our homeless friends and, where needed, they will provide crisis care to the weary and downtrodden. Most importantly we will be sharing how much God loves them, how much we love them, and offer friendship and care.
Our goal is to create an experience so wonderful that our homeless friends will stay and join our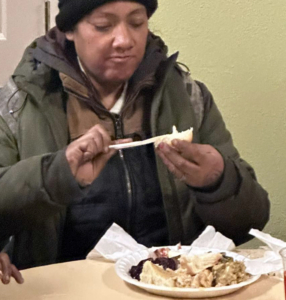 New Life Program, which provides a pathway off the streets into faith, employment, and permanent housing. When one of our Thanksgiving guests makes the decision to join our New Life Program then we can truly say that their restored hope began with a meal.
Besides our sit down meals in our dining room, we will be providing Thanksgiving Family Food Boxes to the working poor, so they can celebrate with loved ones at home. So please support our Thanksgiving Banquet and our upcoming busy holiday season.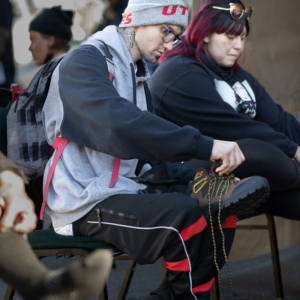 Give – You can call our finance office at 801.746.1006 for secure credit card donations over the phone, or visit RescueSaltLake.org to donate through our website.
Donate -We are also in need of warm clothes, winter boots, and other items (visit our website for a more complete list). We do not want to turn anyone away this holiday season and want to make sure no one will go hungry.
Volunteer- Email or call our volunteer coordinator Natalie Lanza at N.Lanza@RescueSaltLake.org or call or text 385-354-8165.
Check Out Other Articles From Our Newsletter
Kayra Darling: A Woman Finds a New Life off the Streets
Facing Tragedy – God's Love Story – A Message From Our Director
Daniel, Jaden, Kyle, and Ryan- Off the Streets and in a New Home