A Homeless Father Finds Sobriety and Employment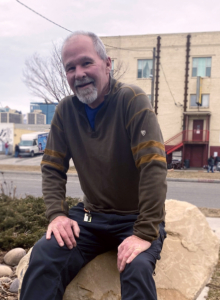 My story doesn't start like many that you might have read in the Rescuer before. I grew up in a good home. My parents have been married for 63 years and their lives (and mine growing up in California) centered around church activities and helping other people.
My story, then, is not of a dysfunctional family, but of a person (me) who has an alcohol addiction. One of the big problems at the early stage of my addiction was that I was a successful alcoholic. I could drink in excess and still go to work, make money, and be successful. For 25 years I was an effective sales rep, selling large truck parts within the trucking industry.
I had a house, was married for 23 years (I did go through one divorce and remarried again) and had three children. I lived what might seem like a normal life upon cursory inspection.
But when I divorced again in 2017, my life took a turn. I started drinking more and within two weeks was arrested for DUI. I lost my job and home in the fall of 2017. I realized I needed serious help. I had driven past the Rescue Mission many times during my commute and was desperate enough to seek shelter there.
While at the Mission I would stay in shelter, get a job, save up money, and then move out. Only, once I moved, I would start drinking again. So, I would come back, stay for a week or so, get sober, get some work, and then move out again. The cycle continued.
I found I could stay sober when I was staying at the Rescue Mission, but once I left, it was only a matter of time before I would start drinking again. When the pandemic hit, I had to quarantine at a hotel, which the health department had set up as a quarantine facility for homeless people who tested positive.
While in quarantine, I met a friend and we decided we would get away during the pandemic. We agreed to hike a good section of the Pacific Crest Trail together, up from California and then cut over to Lincoln City, Oregon on the coast. We figured that 400-mile trek would consume the whole pandemic summer.
When we were released from quarantine, we took the money we had saved from working and each strapped 60-pound packs on our backs with tents and supplies and bought bus tickets. We got as far as Idaho before we stopped and started camping out and drinking. I could tell by the amount we were drinking that we were not going to make it to the trail. I told my friend he should head back to Salt Lake City and seek help.
I continued camping in Idaho until I woke up with a serious problem. I had shortness of breath, and then my legs began swelling up. I was able to hike back to a place where I could catch a bus back to Salt Lake and returned to the Rescue Mission near the first of June in 2021. I was able to see a doctor at the Fourth Street Clinic, which works closely with those who get help at the Rescue Mission.
I learned I had congestive heart failure. My doctors told me that one of my heart valves, which should have been doing 50% of my heart work, was functioning at 17%. The Mission let me stay there but again I got a job, saved up some money and left.
By October 2021, I was drinking again and could feel the effects of my heart damage. I had made a good friendship with one of the men on the New Life Program and I would call and talk to him often. On December 22, 2021 I was speaking with him and he could tell I was not doing well.
Afraid that I was going to die, He asked the staff at the Mission to go to the hotel I was at and rescue me. They found the hotel I was at and were able to enter my room. I was nearly dead. They brought me to the hospital where the staff revived me.
The next thing I remember it was December 27, five days later. I was released and came back to the Mission the next day. When I entered the Mission, the Program Director told me I had one choice. I could either join the New Life Program and get the help I needed to change my life, or I could find a different place to live. It was the tough love I needed, and I joined the program. "I don't want to die," I said.
Since joining the New Life Program my life has been nothing but good. I go to church each Sunday at Calvary Chapel and have been able to stay sober. I have worked through the counseling and attended Bible studies that have helped me introspectively look at and consider the reasons I turn to alcohol for satisfaction, instead of turning to God.
As I have grown in faith and sobriety, I have been able to share my life story several times at the Mission. Additionally, I have reconnected with my children. One son lives here in Salt Lake, and I talk with him daily. My daughter lives in Nevada. She has two children (my grandchildren) but she has dealt with serious addiction, just like me. By sharing my story with her, she has entered recovery and has been sober now for four months and has custody of her children. I get to talk to her almost every day and facetime with my grandchildren. My other son is currently incarcerated, so I speak with him less often, but please pray that I could be an influence for him to have a changed life as well.
I entered the employment phase of the New Life Program a few months ago. I have a job as a cook at a local restaurant. It's a good job for now. We do a lot of in-person and online orders, so it keeps me busy. I am saving up money and my plan is that when I graduate from the New Life Program, I will go spend the summer with my parents, who retired in Arkansas. I do not know how many years they have left, so I want to connect with them while I can. At my last doctor's appointment, I learned that my heart valve, which had been functioning at 17% is now at 40%. I feel like God is healing me. I have completed all the steps to get my driver's license back but want to make sure I don't rush into driving or buy a car until I am ready.
I thank you so much for supporting the Rescue Mission. This place and the staff here have truly saved my life and I have seen the same life-changing miracles that happened in my life happen and, in many others, as well, including my daughter. Please pray that God would provide clear direction for my life. I am 59 years old now and feel like I have so much more work to do and life to live. God bless you!
Check Out Other Newsletter Articles
While Public Funding Can Help, It Is No Replacement For The Gospel – A Message From Our Director
Rise, Renew, and Rejoice This Easter
Venus Maddox: Finding Joy in God, Sobriety, and Work

Subscribe to Our E-Newsletter
Help someone off the streets and transform a life by donating today!
Your Support Can Change Someone's Life.