The four roommates, Kyle Carson, Ryan Barker-Brewer, Daniel Wisdom,
and Jaden Herbert enjoy the rooftop patio of their new West Valley townhome.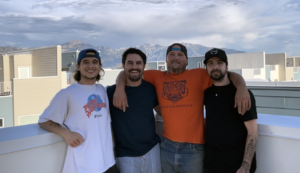 Editor's Note: While we usually share individual life stories of our New Life Program graduates, in this month's Rescuer we share the story of four graduates, who formed a unique bond at the Mission. Their story represents the power of God to change lives. It also shows great personal dedication on the part of these four men and the Mission's staff, along with the huge impact your support can have in restoring broken lives.
This is the story of Daniel Wisdom, Ryan Barker-Brewer, Jaden Herbert, and Kyle Carson. The group chose Daniel to share their story on behalf of all four, so their story is written as told by Daniel.
I was the last of the four of us to arrive at the Mission, but quickly formed a bond with Ryan, Jaden, and Kyle. I was able to move into a three-person room at the Mission with Jaden and Ryan and our room became an awesome respite from the streets.
When we weren't doing our work therapy jobs, classes, or individual study time and prayer, we were hanging out in our room. Other members of the New Life Program, especially Kyle, would come and hang out. Sometimes we would play video games. I was learning to play the guitar at the time and sometimes people would listen to me play. The things I remember most though were the encouraging conversations we had about recovery and learning about each other's past wounds that led them into addiction.
While Ryan, Jaden, and me were roommates, Kyle shared the same abandonment issues that I had faced and we connected over those shared, yet painful, experiences. All four of us did well in the program. I ultimately was hired as the Mission's driver, picking up donations and other deliveries, while Ryan, Jaden, and Kyle all got jobs outside of the Mission.
Jaden and Ryan moved out together, but after a year their lease was set to balloon to $2,300 for a two-bedroom apartment. They needed to move somewhere more affordable. We decided to find a four-bedroom place we could all share and afford.
The best part about our bond is that we can look out for each other and notice behaviors in each other that could lead to relapse. Then, we can help the other person out when we see they need help. For example, when we were looking for houses to rent, we could tell Jaden was really stressed. I asked him what was wrong, and he explained how stressful it was trying to find a house everyone was happy with and the pressure he felt. Ryan and I were then able to tell him to not worry about it. He could be taken out of the house-hunting process and the two of us would take care of it.
Since we have moved in together, we provide similar help. If we can tell someone is stressed, but then leaves dirty dishes without washing them, someone else will take care of it for them, instead of confronting them and causing an argument and more stress.
We did eventually find an awesome townhouse in West Valley City, near the Valley Fair Mall area. It was literally brand new when we moved in on August 11, 2023 – we even had to take the plastic wrap off the appliances. While realizing material things are only fleeting, we all felt a sense of wonderment at having a new washer and dryer, refrigerator, dishwasher, microwave, and more in our house.
Sometimes I come home and just think, "wow, I actually live here." Maybe the coolest part is our rooftop patio, which gives a great view of the whole Salt Lake Valley. There are outlets up there so you could have a TV and watch football, or grill some barbecue, or just hang out and talk.
We were all once homeless, living on the streets with no hope. Today we all have relationships with Jesus, are sober, have jobs, and are actively helping each other to succeed, move forward, and never go back to the shadows of addiction.
The rent for our place is $2,850 total, which means each of us pays about $750 a month, something we can all afford. We all have our own bedroom, which is nice, but also have the accountability of living with four people who know each other well and can help each other understand when they are acting in ways that could lead to a relapse.
Thank you so much for supporting the Mission. You have changed each of our lives. The four of us could not be more thankful for your support and praise God that He changed our lives. We truly have new lives, off the street and in a brand-new home, thanks to the Mission, which would not be here without God's provision through your giving. Thank your again from all four of us!
Check Out Other Newsletter Articles
Facing Tragedy – God's Love Story– A Message From Our Director
Help Us Gear Up Now For The Holidays
Kayra Darling: A Women Finds a New Life Off the Streets

Stay up to date with what is happening at the Rescue Mission when you subscribe to our monthly newsletter.
Subscribe to Our E-Newsletter
Help someone off the streets and transform a life by donating today!
Your Support Can Change Someone's Life.