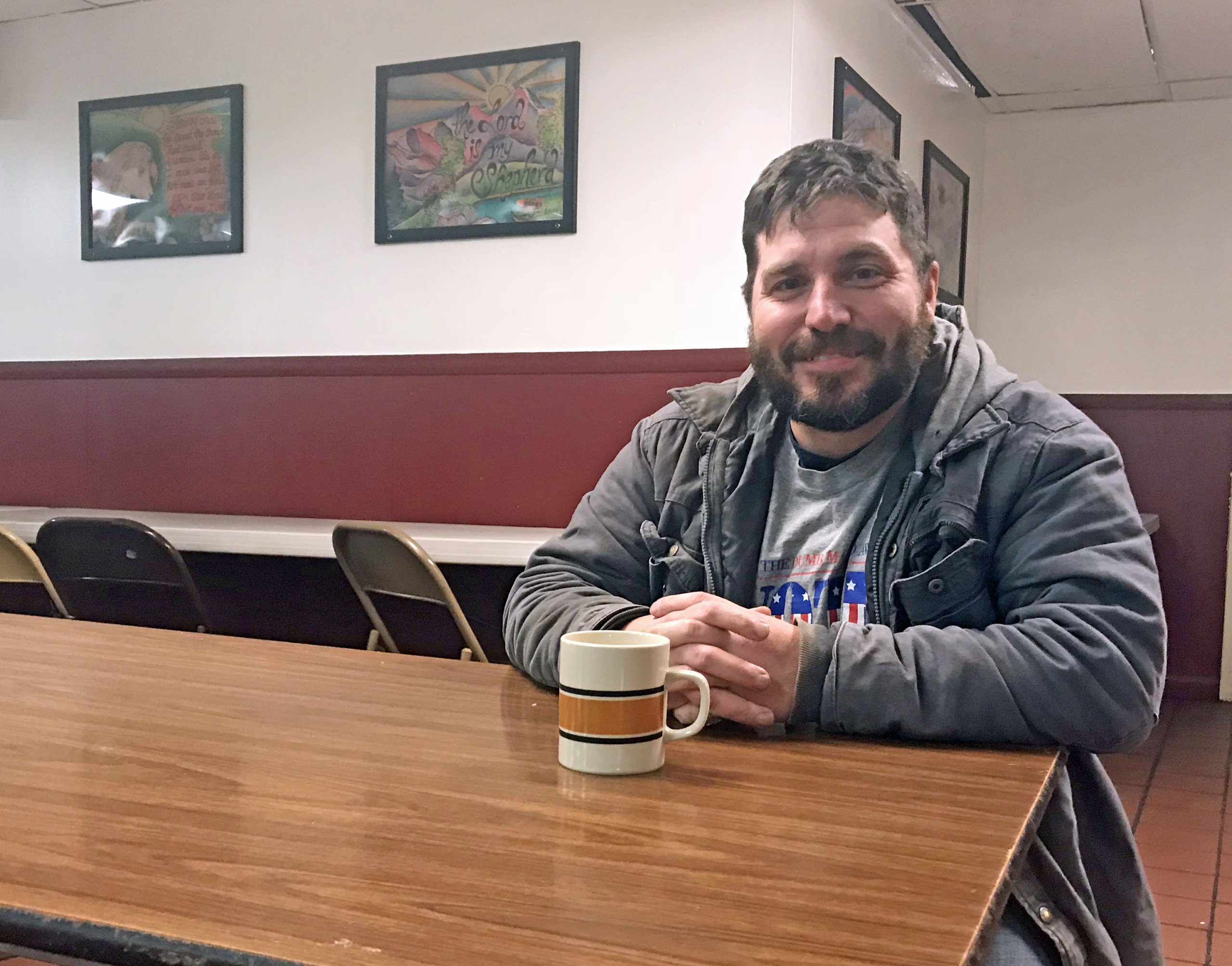 Sober After 20 Years of Meth Addiction
Growing up in a bible-believing, stable family, I am probably not the type of person you would expect to end up at the Rescue Mission.
I never did drugs as a youth and my parents took me to a good Christian fellowship each Sunday. My dad had a stable job as a salesman at a well-respected Utah furniture company. In many ways, my life up through high school was very normal.
It was just shortly after I graduated from high school that I attended a party and was introduced to methamphetamine. A friend I knew from school was there and she suggested I tried it. I did and have spent the last nearly 20 years of my life battling addiction to meth.
I was married at 19, shortly after I first tried meth, and my wife and I quickly had three daughters together. At 38, it is strange to say that I am a grandpa, as my first-born daughter recently had her first baby.
My wife and I divorced after several years of marriage and she and my daughters all live in Montana, where we had moved for a couple of years for a job. Our marriage was rocky and the conflict in our marriage only grew worse after my mother died from cancer. It was devastating to me and caused me to turn to drugs even more.
Our rocky marriage became more difficult as my addiction grew. Eventually, my wife and I divorced and I found myself living in Utah again. Over the past decade I have mostly been down-and-out using meth. While my family was supportive of me at times, they eventually grew tired of my lies and drug abuse. They couldn't trust me anymore and, after I lost their support, I had nowhere to go and became homeless.
Over the last five years I have couch-surfed, slept on the streets, or camped out by the Jordan River. Probably the strangest place I ever slept was under a bus stop bench. I remember it being so cold and just thinking that the bench would at least give me some shelter at night.
Not surprisingly, I was in and out of jail during this time, getting arrested for possession of drugs and other drug-related crimes. When I was released from jail on January 5, 2019 for yet another drug charge, my father picked me up. He hadn't completely abandoned me, but he wasn't going to support my addiction either. He gave me a winter coat, a change of clothes, and dropped me off downtown where he knew I could find a place to stay, if I really wanted to try and get off the streets.
I was down and out, at my lowest point. It was January so I knew I couldn't stay outside, but I also knew I needed to stay sober.
As I was considering what to do, I saw a guy nearby who I knew from the streets. It was a person I used to do drugs with, but he looked great. He seemed totally different from when I had known him. I stopped and talked to him. He said he was sober, had a job, and even his own car. I asked him how he did it. He told me about the Rescue Mission and how the New Life Program had changed his life. As he spoke, I knew the New Life Program was what I needed.
I walked to the Rescue Mission and asked for help. I realized right away that the Mission was the best place for me. First, they threw me straight into a work therapy job. Work therapy is where people who are on the New Life Program help run the Rescue Mission's day-to-day operations and help serve the homeless people who come to the Mission for help. For work therapy, we might cook meals, do laundry, distribute clothes, receive donations, or check people into beds at night. Work therapy gave me a purpose and kept my mind busy so I wasn't idle and thinking about drugs all the time. Since we are serving other people, work therapy also gave me a sense that my life could impact others. The work caused me to be less self-focused and selfish.
The New Life Program also helped me reconnect with God. As part of the program I went to church each week. I found a great church in Calvary Chapel of Salt Lake and discovered teaching that spoke to me in a language I could understand and felt real. I also connected with a community discipler, named Mark Burgess, who taught me more about God and His word and was a good friend to me.
I moved to the employment phase of the New Life Program last October and now have a good job making $18 an hour for a construction site equipment supplier. I am doing so well that I was able to recommend another person from the New Life Program for a job, and my company hired him on my recommendation. It feels fantastic to be trusted again.
God has been so good to me and I am so grateful He led me to the Rescue Mission. My goals moving forward are pretty simple. I want God to help me be stable and substance-free and to be close to my family. My father and I now have a great relationship and I would go over to his house regularly to watch football during this past season.
However, my ex-wife and daughters remain resentful towards me. They have every reason to feel this way and I know that all I can do is focus on my relationship with God and trust His power to change me. One day, I hope that I can have a good relationship with my ex-wife and daughters again. So please pray that God would continue to help me and bless more of my family relationships moving forward. He has already done so much, and I know He is always there to help when I turn to Him. Thank you so much for supporting the Rescue Mission. Your support helped saved me, because without it, I would still be on the streets, using meth.
Help someone off the streets and transform a life by donating today!
Your Support Can Change Someone's Life.