A Formerly Homeless Father Can Smile Again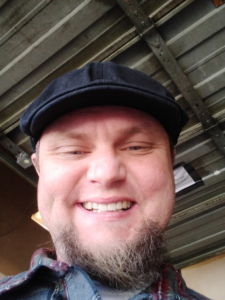 I grew up using drugs for most of my volatile life. There were times when I was in prison and times when I did well and was employed. But when my mother passed away a few years ago, grief overtook me and I fell deep into addiction, lost my job as an over-the-road truck driver, and tumbled into homelessness.
Sometimes I would live on the streets. Other times I would couch surf at friends' apartments. During a prolonged couch surfing period I was employed and actually saved up some money to buy a car. As you might expect, having someone living rent free on your couch for a month gets tiring and once I bought my car, my friend told me it was time to leave.
At that moment I had nowhere to go, and, feeling abandoned by my friend and still overcome with grief about my mom, I decided to take my own life. Throughout my drug misuse and abuse I have used meth or alcohol, but not heroin. Still, I believed that using an excessive amount of heroin would be a quick and painless way to die, so I purchase a large quantity, got in my car, and drove out to what I thought was the middle of nowhere – an industrial area far west of Salt Lake City near the airport.
I parked my car and injected what I expected to be a fatal dose of heroin.
The next thing I remember, I woke up in a hospital, still alive. In that moment I realized God was watching out for me since there is no way I should have been alive without divine intervention. To this day, I don't know how I ended up at the hospital. I have never read the police report. I know I was charged with a DUI and, somehow, lived. I figure God sent someone there (at just the right moment) to find me and call the paramedics.
I spent a week in the hospital but when they released me, I was still in my same predicament: anxious, depressed, and homeless. I was hungry and had no money or place to go, so I asked a homeless man on the street where I could get food. It was an early Saturday morning in August, 2022 and he told me the Rescue Mission served a hot breakfast at 7 a.m.
That warm August morning, I walked into the Rescue Mission for food to fill my empty stomach. While eating, I learned that the Mission had a New Life Program that could help people get sober and get off the streets. I felt good being at the Mission. It seemed like the love of God was there and since I was convinced it was God who had spared my life, I wanted to know more about Him.
Two days later I joined the New Life Program, and my life has radically changed since. The staff at the Mission showed me Christ-like love, which was different from other relationships I have had. I came to learn the truth about Jesus from the Bible and am not ashamed to call myself a born-again Christian. I was baptized at a local Christian church and have a real relationship with God now.
He has truly changed me, ever since saving my life on the day I wanted to end it. I have not used drugs or alcohol for nearly a year now and have worked through many issues in my one-on-one sessions. . For the first time in my life, I feel like a stable-minded person. I don't feel like the same person I used to be. When I think about my past life, it feels like I am looking back at a movie, almost like it didn't happen.
My depression and anxiety are mitigated by the love and grace I have experienced from God. I have learned the importance of daily prayer and scripture reading as tools to keep me connected to God. I have a good church family at the Adventure Church in Draper and know that keeping connected to a good local church will be key for me.
God has healed my relationship with my 15-year-old daughter and we talk on the phone three or four times a week. She lives with her mom, and it is great that she has welcomed me back into her life.
I recently joined the employment phase of the New Life Program and got a job at a youth shelter, which provides shelter for young homeless people ages 15-22. I feel called to help the homeless and addicted now that God has changed my life and am excited to be supporting homeless youth in our community. As a young person, I often felt abandoned and alone and believe my life experience can help young people who are struggling.
As I work, I will continue in the New Life Program and save money. I am still on probation for my DUI but just need to save up some money to pay off my fine and my probation will end. I am also saving up money so when I graduate from the New Life Program I can afford a place of my own.
Finally, I hope you notice the smile in my picture. When I came to the Mission I had severe tooth pain and a broken smile from years of neglecting my teeth. Through contacts at the Mission, I was able to secure new teeth through the University of Utah. Having a full smile has given me further confidence and joy as I move into the next phase of my life.
I am so thankful for everything you, the supporters of the Rescue Mission, have sacrificed to support the Rescue Mission. I know God used that offer of a hot breakfast to lead me here and that your support supplies not only food, but all the great services and life-changing support I have received since coming through the Mission's doors. Your gracious support has truly changed my life and I can't thank you enough.
Check Out Other Newsletter Articles
More Than Meals: How the New Life Program Changes Lives – A Message From Our Director
As Winter Shelters Close, We Need Your Doubled Donation More Than Ever
Kayra Darling: A Women Finds a New Life Off the Streets

Stay up to date with what is happening at the Rescue Mission when you subscribe to our monthly newsletter.
Subscribe to Our E-Newsletter
Help someone off the streets and transform a life by donating today!
Your Support Can Change Someone's Life.