Depending on God to Help with Anxiety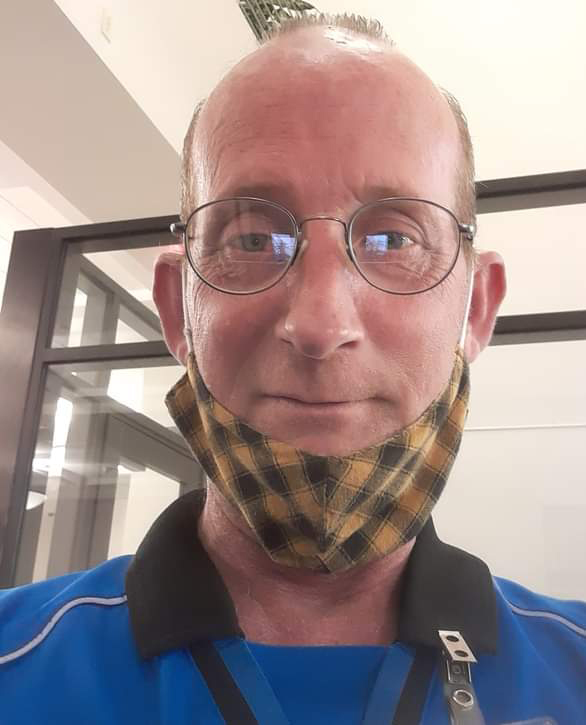 Editors note: From time to time we like to bring you updates of men and women who have already shared their life story in the Rescuer. This month we share an update from Jon Anderson who came to the Rescue Mission in 2014 and now lives in Kennewick (Tri-Cities), Washington.
In 2014, I had $20 in my pocket, three bags of clothes, and was standing on the sidewalk in front of the Rescue Mission. I had never been homeless before and had, up until that point, held down steady jobs in the broadcasting industry for over 25 years.  A family member had just dropped me off at the Rescue Mission – I had literally been kicked to the curb because I couldn't stop drinking and taking advantage of my family.
After contemplating my fate for a few hours, I walked into the Rescue Mission. I had designs on asking the people there for money. Little did I know I would end up spending the next year of my life at the Rescue Mission as a member of the New Life Program.
Once I joined the New Life Program, I felt like God started working in my life. When I first started the program I couldn't understand the Bible studies, even though I was raised in church. Instead, I was confused.
But the more I went to class the more I started to understand. I realized who God was and grew into a closer relationship with Him. I found myself actually wanting to obey Him, and actually wanting to stay sober. Learning about the Bible changed my desires in a way that I couldn't fully understand, and it also gave me the power to change.
When I graduated from the New Life Program a year later in 2015, I decided to move to Kennewick where my mother and brother lived. My mom (a 75-year-old nurse at the time) let me move in with her and I found a job as a master controller at a local television station. The master controller is the person who tells the camera operators what angles to shoot at and lets the crew know when the show is going to commercials, stuff like that.
It was a good job, but I worked the morning show, which meant I had to get up at 2 a.m. so we could go on air at 5 a.m. and then be done at 7 a.m. The hours started to wear me out, so I shifted to a job as a security officer at the local courthouse.
That move made me feel more stable, working normal hours at a place I enjoyed. Last July, however, two of my coworkers and friends both experienced fatal heart attacks. One coworker was at home when it happened, but the other happened at work. I watched the paramedics come to the courthouse and try to revive my friend, but he didn't make it.
Witnessing his death traumatized me. I had experienced a near heart attack several years ago and went through daily fear that I would have an attack and die too. It was hard for me to go back to work or even make it through the day. But instead of turning back to alcohol I went to my doctor. He was able to give me some medication that helped.
But what I really had to do to get back to work was turn to God. Every day I get up an hour or two early before I go to work and have my devotion with God and pray. I tell people that the experience has brought me closer to God than I have ever been before. I share with people that I need Him on my best days and my worst days and all the days in between.
God has blessed me as I have depended more and more on Him. I have been promoted to Head of Security for the Justice Center here in the Tri-Cities. It's a great job and has allowed me to get a place of my own. Well, it's not really my own. My mother, who is 82 now, lives with me. It is a blessing to be able to take care of her and provide a place for her to live, just like she did for me seven years ago and for much of my life. She has a hard time getting around, but I feel good that she can live with family instead of in a retirement center.
Another neat thing that happened was that just last year my daughter started communicating with me again. I was not a good father to her in many ways, but always wanted to reconnect with her if I could. I would send her texts or social media messages every so often, but she wouldn't respond. But last year she finally sent me a message and now we talk two or three times a week through texts and pictures of my grandkids.
My son also came up to visit me recently and stayed for a few days. It was the first time I had seen either of my kids face-to-face in many years. Soon I will have seven grandchildren and even though they live in Utah, and I haven't had a chance to spend much time with them, I do enjoy seeing pictures and videos as they grow up.
God has radically changed my life since that day I was kicked to the Rescue Mission's curb. He used the New Life Program to bring me to faith in Him and has used that faith to get me through some very hard times since. But through my relationship with Him I have hope for the future.
Please pray that God would continue to help me with my anxiety. I do at times get lonely living alone with my mother and would love to find companionship again. So pray that God, if it is His will, might have a wife out there for me. Most of all I want to thank you, the supporters of the Rescue Mission. Thank you for helping to make a place where the most desperate people in Utah, like I once was, can come and experience a new life. Your support helped get me off the streets and into faith, sobriety, employment, and a home of my own.
Check Out Other Newsletter Articles
Impacting More Than Homeless Lives– A Message From Our Director
Double Your Impact in May
Thank You for Supporting Our Easter Banquet
Nichole Reigard: Off the Streets and Into Faith and Employment
Subscribe to Our E-Newsletter
Help someone off the streets and transform a life by donating today!
Your Support Can Change Someone's Life.