Faith, Employment, Marriage, and New Life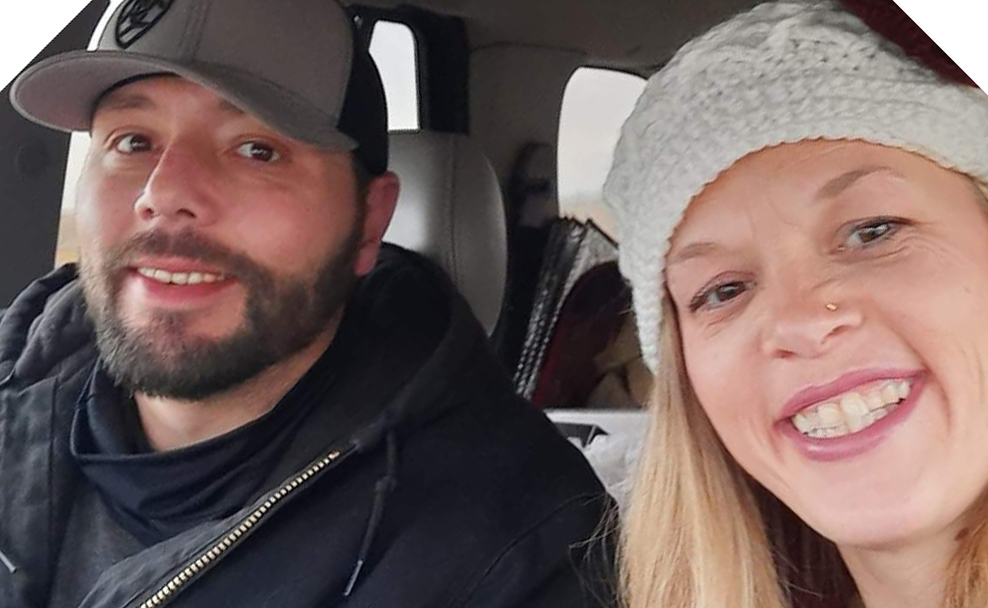 A few days ago, my wife and I had an emergency bee situation. We had ordered some bees from California and had introduced them to the hives we keep in our back yard. But when we woke up, our new bees had all migrated back out of our hives and returned to the California containers they had come in. So, we put on our bee suits and worked to get them back in the right hives.
It's been fun tending bees since we were married two years ago. We both love animals, love sharing a hobby together, and can give local honey away to our friends.
Four years ago, I never thought I could be a beekeeper—someone who other living things (albeit simple insects) depended on to stay alive. Back then, I couldn't even depend on myself to take care of me. But after God changed my life at the Rescue Mission, I am a new person and am doing all kinds of things I never thought possible.
I have what might be a typical story for someone who ends up at the Rescue Mission. I had difficulties as a child and started using meth at age 13. Fast forward to 2017: I was in my mid-30s and was a shell of a person. I was divorced, had no relationship with my two daughters, was woefully behind on child support, and my father refused to let me live with him because of my addiction.
I was homeless with no hope. My daily routine (literally, this was my daily routine for at least two years) was to wake up in Magna and start walking. I would walk from Magna to downtown Salt Lake City, all the while using meth. When I got to Salt Lake, I would hang out for a bit or try to get money for more drugs, and then head back to Magna, arriving just in time to find a place in a park or other out-of-the-way spot to sleep for the night. I know that sounds exhausting and impossible, but that was my life for two years while I was strung out on meth.
During this time, I was arrested for drug possession several times. After violating my probation once again, I went to court, and the judge asked me what I wanted: to sit in jail or to try a recovery program? I said I wanted to try recovery, and the court gave me three choices, one of which was the Rescue Mission of Salt Lake.
During my many walks downtown, I had gone to the Rescue Mission for food and had asked about their program. They had told me they couldn't accept me because, at the time, I had warrants out for my arrest that I was unwilling to face. But now, it seemed like God had opened a door—a legal and proper way for me to join the Rescue Mission's New Life Program.
I knew the best way to get back on track was to get back in touch with Jesus. It was awesome to wake up each morning and have a Bible study to attend. Each day I got centered and was able to ask any question I had about God and the Bible. The Mission also gave me a great discipler, Matt Harrison, who I related to at once. He had had some of the same problems I did growing up, and he talked to me about how he dealt with them. I felt like Matt's success as a person gave me hope that I, too, could succeed.
It wasn't all easy. Through my one-on-one counseling, I talked through the pains of my life—my brother's death, my parent's divorce, my own divorce and estrangement from my two daughters. But talking through my pains instead of leaving them buried inside helped me grow and heal.
I want to share one example of how God grew me as a person. At the Mission, we have a game room. It's a spot where members of the New Life Program can play board games or even watch TV. At one point, this game room had become a de facto storage closet. There were so many clothes and other donations that about half the room was used to store the items and limited its use.
One day I decided to clean the whole room. I sorted all the clothes and moved the donations to the right areas. Then I put up a card table and arranged the seating. It was a lot of work. But somebody suggested I did all that work because I was using meth again and needed an outlet for my meth-fueled energy. So, I was drug tested. I felt a little bitter because I knew I was clean and had done what I felt like was a good deed, only to be cast under suspicion for it.
But God calmed my heart in that moment. The old me would've lost it, but the new me took it as a learning experience. I looked at myself and realized I am a high-energy person who has previously been addicted to meth. When I let my energy take over, I can seem high-strung to other people. With that educational experience in my pocket, I have learned to dial my "hyperness" back a bit when I am feeling especially high-strung because I know the impression it can leave, given my history.
I graduated from the New Life Program about two and half years ago. During my time on the New Life Program, I was able to pay off my fines, get my driver's license, buy an old car, and secure a rental home for when I graduated. Shortly after graduation, I also completed all the necessary parts of my probation and was hired to work on the construction of the new Facebook data center in Eagle Mountain. The data center has many rooms that will hold servers and specialized electrical components. The construction must be done in a way where each of these rooms is self-contained so that, if a fire started in one of the rooms, it could not spread to another room. My job is to ensure that special construction techniques are implemented to prevent fire spread from room to room.
This work has been very fulfilling, and I have been able to purchase a new car and have almost caught up all my back-child support. Because of my commitment to pay child support, my ex-wife has encouraged me to have a relationship with my two daughters, now 15 and 16, who live in St. George. We have had several conversations over social media, and I feel like they will want to meet me soon. They are hesitant since I was never there for them as a father, but I hope they can see I am different now. I don't want to pressure them, and even the online relationship I have with them now is a miracle and something I never thought would be possible.
I had made a commitment that I wouldn't date anyone until I had graduated and was clean and sober. Shortly after I graduated, I posted my profile on a popular dating app and soon fell in love and was married to my beautiful wife of two years.
She works as an overnight nurse in one of Salt Lake's only 24/7 veterinary emergency rooms. She loves working there but is also going back to school to further her career opportunities. We have a great marriage and enjoy attending K2 The Church together.
I feel so blessed to have this incredible new life. In August, it will have been three years since I graduated from the New Life Program, and God has been keeping me sober and moving forward ever since. I can't believe how my life has changed since I was homeless and mindlessly walking from Magna to Salt Lake each day, wasting my life away. Thank you so much for supporting the Rescue Mission and helping to create a place where people like me can get the help they need for a new life.
Check Out Other Newsletter Articles
Friendship, Especially In Jesus, Is A Cure-All– A Message From Our Director
Saving Lives Through Operation Hydration
Melissa Mikkelsen: A Mother Finds A New Life With Her Kids
Subscribe to Our E-Newsletter
Help someone off the streets and transform a life by donating today!
Your Support Can Change Someone's Life.