A Broken Heart is Healed at the Mission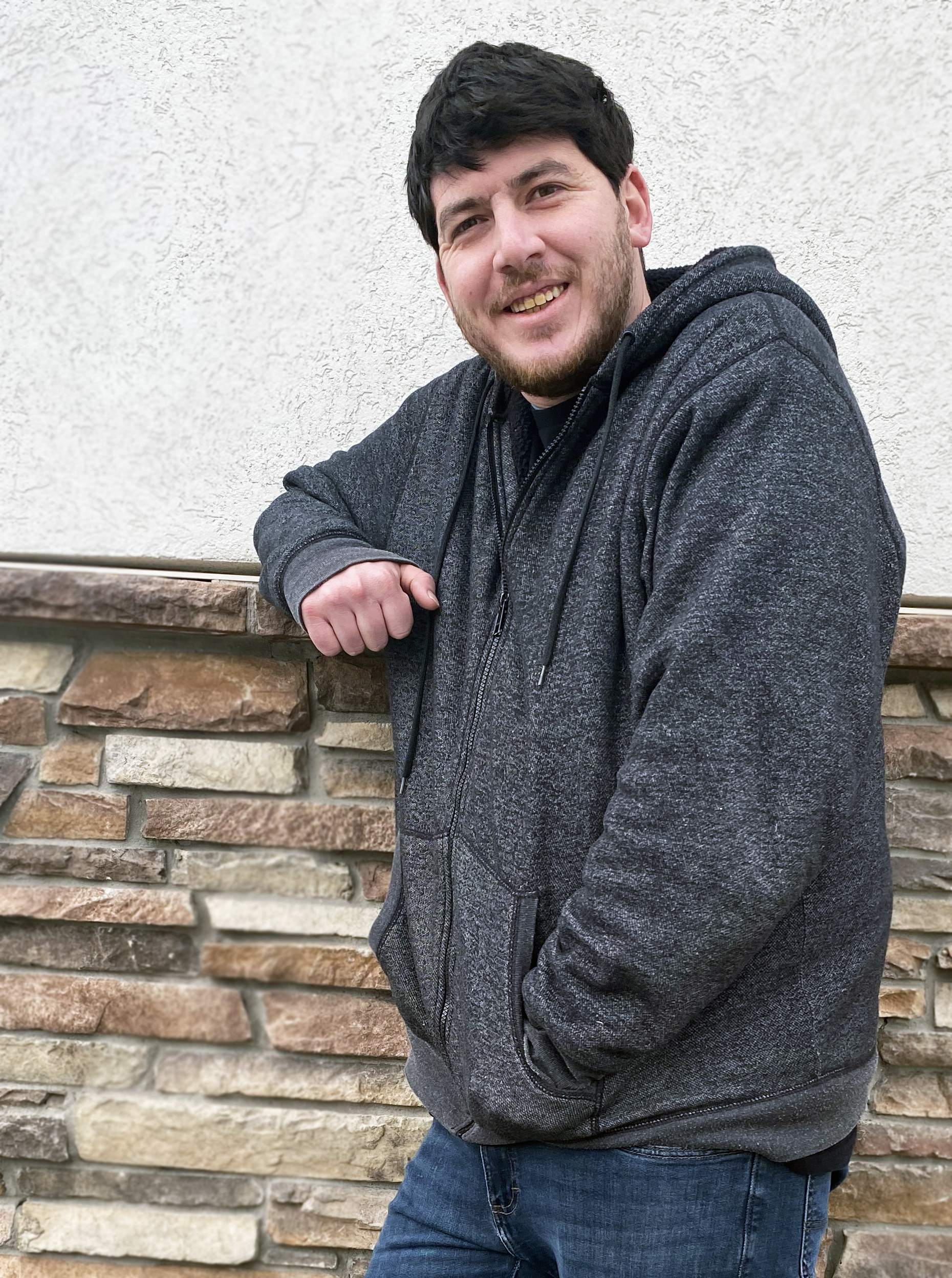 Two years ago, I was hopeless, but that all changed when God providentially led me to the Rescue Mission of Salt Lake 10 months ago.
My spiral into hopelessness started on January 1, 2021 when my wife passed away. She had a seizure and fell and hit her head hard and the injuries she sustained ended her life. While I had been drinking alcohol since I was in middle school, my drinking elevated to a new level as I tried to deal with the tragedy of losing my wife.
I was living in Flagstaff and working as a restaurant cook. The restaurant bar tenders would make me drinks every night during my work shift and then I would drink even more when I went home. Soon I started skipping meals. Sometimes I would eat two meals a day, sometimes one, and sometimes I would eat nothing at all, as my depression and addiction grew worse.
I didn't want to deal with the pain of losing my wife and when I drank it felt like I was evading pain's grasp. When I started getting bills I couldn't pay, I drank even more and, when I drank, I quit worrying about the bills and my wife's passing.
I wasn't living anymore, I was only surviving. My depression grew so bad that I started taking steps to hurt myself, to end my life. I am grateful that none of my attempts were successful, but there seemed to be no way out of my spiritual and emotional hole.
It was at that point that I asked God for help. While I feel like I have believed in the idea of God for my whole life, I had never really trusted Him or known His promises. But at my lowest point I pleaded with God to point me to somewhere that could help me.
A few days later I made the decision (and in hindsight I see it was God's hand guiding me) to leave Flagstaff. I felt that if I stayed in Flagstaff I wasn't going to survive.
I didn't have much money, but I pulled up the Greyhound bus app on my phone and, considering my options, decided to go to Oregon. However, when I arrived at the bus station I was drunk and I accidentally clicked the wrong route on my phone and bought a ticket to Salt Lake by mistake.
When I arrived in Utah, I again made attempts to take my own life and was hospitalized. After several days, the hospital released me and referred me to the Fourth Street Clinic for follow up mental health care. The clinic serves the homeless and other low-income individuals and is across the street from the Rescue Mission.
When I walked out of the Fourth Street Clinic, I had made up my mind to use my remaining money and purchase a bus ticket to another state. That's when I looked across the street and saw the "Jesus Saves" sign in front of the Rescue Mission.
I said to myself, "you know what, I am going to walk in there and see what they are about." That cold February night I slept on the Rescue Mission's chapel floor. The next day, they asked me if wanted to volunteer at the Mission, helping out in the kitchen. I spent the day volunteering and at the end of my shift the Kitchen Manager, Steve, pulled me aside. He told me his story of how the Rescue Mission had helped him. He said he was once homeless, addicted, and hopeless, just like me. But after working through the Rescue Mission's New Life Program he had gained faith and sobriety. He told me he thought the New Life Program could help me too.
I decided to join the New Life Program and since that time, my life has radically changed. It was challenging working through the counseling curriculum and dealing with the pains I had suffered, especially related to my wife's death. Still, I have learned that it is actually easier, with God's help, to face my problems, rather than run from them. As my faith in God increased, He helped me break the bondage of depression I was stuck in, and I found I didn't need to drink alcohol anymore to escape my feelings.
I have discovered a great home church at The Adventure in Draper. My church family has helped me in so many ways and I am so grateful. They are a support system for me along with my weekly recovery classes and the friends I have here at the Rescue Mission.
A couple of months ago, I transitioned to the employment phase of the New Life Program and got a job at a popular downtown Mexican restaurant. I enjoy cooking and am good at it, so I am glad God provided the right job for me. I want to save up money until I can afford to get an apartment or place of my own. I love living here in Salt Lake and want to become a part of this community.
As I look back at what brought me here, I can see God's hand guiding me to the place I needed to go. He worked it out that I mistakenly bought a bus ticket to Utah instead of Oregon. God led me to the Fourth Street Clinic, just across the street from the place where I found the help I needed.
I never expected that God would lead me to the Rescue Mission of Salt Lake, and I thank you for supporting the Rescue Mission, which is the exact place God picked out to save my life. Without your support I do not believe I would be alive, much less sober, today. I can't thank you enough for how your support has helped me get out of addiction and hopelessness.
Check Out Other Newsletter Articles
Encouraging Hopeful Anticipation – A Message From Our Director
A Great Thanksgiving, Now On To Christmas
Double Your Donation So We Can Raise $80,000 In December
Sarah Eliza: Restored to be a Mother Again
Subscribe to Our E-Newsletter
Help someone off the streets and transform a life by donating today!
Your Support Can Change Someone's Life.